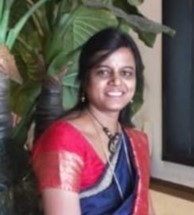 Mrs. Jayalakshmi
No one would have guessed that a virus like COVID – 19 would come and without differentiating, It will alter the life style of people. Due to COVID –19, many changes came to our world and it took sometime for everyone to adopt the new normal.The COVID -19 impact was everywhere, which resulted in the closure of schools.
During this period even I faced lot of difficulties in making videos for my lovely children. I had to imagine the presence of children and teach in order to make my teaching videos. It is not easy until you experience it. Being a lab teacher, I couldn't do PPT like other subjects, as I had to show live activities such as experiments/ diagrams. During my lab classes, when I performed an experiment, children used to enjoy and they used to ask me to redo. Now I feel sad that I couldn't see the joy in children since technology has taken over.
Now coming to the recording part we all teachers had some fun and anxiety which we will never forget in life. WE OURSELVES BECAME SCRIPT WRITERS, CAMERA PERSON, MAKE-UP PERSON,
PRODUCERS, EDITORS etc…
While shooting the video, I felt the camera person is shorter than me but somehow, my friend managed it by climbing on the chair.
By seeing this, our PRINCIPAL MRS. LALITHA BAI provided tripod stands for staff and the problem was solved.
Facing the camera was a bit difficult for me. As I was getting nervous and had to undergo many retakes. I was always supported by my friends.
Finally, when I was watching my recorded version, I found myself enriched with technology.
I am happy that I could share knowledge with the children through these recorded videos.