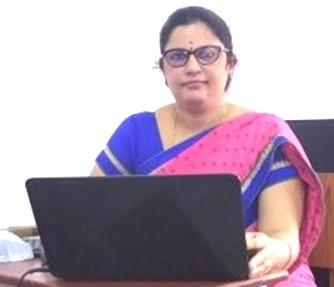 Mrs. Usha
Ever since I have been into teaching as a profession, I remember carrying my vanity bag with a blue and red pen and a booklet wherever I went. Being dedicated and passionate about my profession I always thought of innovative ideas so that I could make learning easily for my student.
Ex: Teaching in the classroom was a bliss with me, my students and the chalk board.
Suddenly everything was a 'huge?' with COVID situation. Many questions arising in everyone's mind . Are the schools going to reopen? When? Will it be safe? How would we manage?
One solution that resolved many problems was online teaching or E – teaching.
All these years I have been seeing many of my family members working on computers and laptop. I always wondered how they sat for so long and in front of the screen. Somehow, unknowingly, I had developed a fear of computers. I thought it was a complicated deal. All I knew is typing question papers.
Now E- teaching!!! With computers all time… "Impossible! I can't do this!" This is what I told myself. There were sleepless nights when we were said that we would be given training on how to use computers and how to conduct classes.
One side was a passionate teacher who wanted to start teaching her loving students and other side
was a fearful hesitant person. I felt like a small kid who is hesitant to go to school for the first time leaving behind the warmth and comfort of his home. All I knew is, I have to overcome my fears and anxiety .I must take up the challenge. I will always be grateful to the Management and our Principal who have provided us an platform for learning . I am and will always be grateful to our computer teachers, who have taken a lot of pain in teaching us right from scratch .Yes ABC of computers. Like Montessori kids, we had 'n' number of doubts which were cleared with patience . Like it is said, "Patience makes a man perfect", we practiced it several times . I slowly started realizing that learning computers was exciting easily.. but still I had fear ….It's only till the first step you move forward that's holds you back ……I become a student in order to become an E-teacher.
Teaching is fun with additional knowledge of technology. I had overcome the first fear, and on my
path was the next task… the recording classes!!. I have never done this before. I have practiced my online class dialogues while riding my bike, while cooking, eating ,watching TV, while sleeping…
Finally, I stood in the front of the camera as my friend started recording ..I started and WENT BLANK…..I was disappointed with myself .This was new for me and for many of us. We were all sailing on the same boat. This is when our Principal came and encouraged us. Her motivating words filled us with enthusiasm. Our Math department teachers came together as a family. They stood like pillars.
Once again we started recording. There were many takes and finally able to overcome our fears, anxiety and the COVID barrier that stood between teaching and learning. It has been a lovely journey and a lovely transformation . I am always in debt to my PPEC family for transforming me.
If teaching is meditation then learning is blissful.
Yes, learning is an endless process from "WOMB TO TOMB".